You can break old patterns. You can be a different kind of mom or dad.
There are a lot of problems that need fixing. I've been that Psychologist for years. There are plenty of therapists to help with emotional problems that knock you down and hold you back. I'm a Positive Psychologist so I work from a platform of strengths. Positive Psychology is the study of character and happiness.
What does that mean for you? I can help you go from doing OK to feeling GREAT! If you are searching for ways to do better for yourself and for your kids, I definitely have some powerful ideas that can help.
"I can't sit on the sideline anymore. I need to get in the game."
I know how that feels. I was full of doubt as a father. My fear was holding me back from living my full life and giving my kids and my wife my best.
There's more to life. More fun. More laughter. You can make a different path for yourself and your kids.
I have been researching and creating new ways for parents to "level up" for over 20 years, since my wife was pregnant with our first child. Fatherhood was around the corner and I wanted to change the patterns with which I grew up. Now I can share the wisdom of a dad of two kick-ass kids (for 21 years), a husband (for 26 years), an educator (for 17 years), and a Licensed Psychologist (for 16 years).I hear from so many parents…
This is the wish I hear most often from parents:
"I just want my kids to be happy, to make a contribution to society, and to find work that inspires them."
Now how are you going to help them get there? Are you a role model who is happy, contributing to society, and inspired by your work?
For 20+ years I have been researching ideas and chasing down the best ways to help you shorten your learning curve.
You can't help your kids until you help yourself. If you are a mom or a dad, taking care of yourself is usually the last thing on your list. Shifting that priority can be hard to do. I can help you change your orbit from: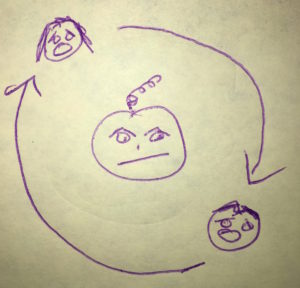 My back-of-the-napkin sketch (don't laugh) of
you and your spouse orbiting your child,
frantically, sucking all the oxygen
— and fun — out of the room.
to look more like this:
With a CALM you in the center, your
partnership and your child's needs
are being met.
Your orbits are in PERFECT alignment!
I have found and created some techniques that I would love to share with you. If you want to join our community of Parents Like You, enter your email below.
If joining a group or working with me is not right for you, you are totally invited to play along at home. I publish my thinking here on Medium and on my blog. I get a kick out of sharing my ideas with you and hearing your feedback.