How can I Laugh More?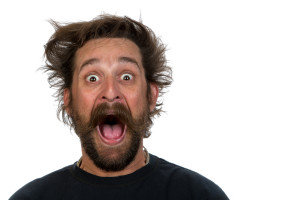 Just do it. How hard can it be? Start laughing more. Right now. I'll wait….
Should be easy, right? Little kids do it all the time. But you, rushing around your busy day, may find it impossible to conjure up a smile or even a grin.
Some people say that kids laugh 300 times a day but adults laugh fewer than 20 times. Is life so much easier as a kid? Or did we grow up and forget how to play? Maybe life moves too too fast to to savor the moment. When did we forget how to make time for ourselves?
Life is too short. You need to laugh more. Life is pretty funny, if you look in the right places. Laughter is good for you. It's good for your health and it's good for the people around you.
If you are a parent, getting you to laugh more isn't my ultimate mission. Laughing more is a way to raise the kids that the world needs. I wrote a short book that gives you seven ways to create a family with more laughing and less yelling. These methods help you savor the moment, find your superpowers, make more time, and remember what play is for. Besides laughing more, these ideas can both enrich your life and create a family that works together. Check out the book to get on the road to start raising kick-ass kids.
Whether you are a parent or not, getting more laughter in your day is going to extend your life and make people want to be around you more. Laughing helps you connect with people, be a leader, and get your message across. Here's another way you can learn to laugh more: